We go out of our way to make sure your stay is a pleasant and memorable one.

View Rooms

Nestled in the hills of the historic town of Spa, Belgium

La Ferme de Spa is a haven of peace and tranquility

Located 1.4 km from Thermes de Spa and 12 km from the Francorchamps F1 circuit.

View Activities

We go out of our way to make sure your stay is a pleasant and memorable one.

View Rooms

Luxurious Amenities

Make a Reservation Today!

Pet Friendly guesthouse featuring Free Wi-Fi, Free private parking, BBQ, Fire Pit, Laundry Room, Spacious Garden and outdoor seating areas, table tennis, table football, table hockey, and so much more.

View Amenities

We go out of our way to make sure your stay is a pleasant and memorable one.

View Rooms

Countless surrounding activities

Make a Reservation Today!

La Ferme de Spa puts the best of Spa at your fingertips, you can easily find many nearby activities to make your stay both comforting and entertaining!

View Activities
Situated on one of the hills surrounding Spa, Belgium, La Ferme de Spa is a haven of peace and tranquility located a few minutes from Thermes de Spa (the thermal baths), and 10 minutes from the F1 circuit of Spa Francorchamps.
Ideal for your family and friends' getaways, La Ferme de Spa guarantees you a calm atmosphere and a personalized stay. Our B&B features 2 spacious but cosy family rooms and 2 authentic suites that can fit up to 4 or sometimes 5 guests each, along with a common lounge, a dining room, and a shared kitchen at your disposal. In case of extra guests, we can gladly host them at our Atelier, which is a separate studio on the property that can also fit up to 4 people.
Ideal for a family and friends' retreat, our B&B is your comfortable home away from home! At La Ferme de Spa, we speak your language and cater to your needs; making sure your stay will be as pleasant and unforgettable as can be.
Located separately from the main guesthouse, with a small garden, private entrance and private parking space, L'Atelier is a studio made up of one large open space, featuring a living room, a bedroom, a kitchenette with table and chairs, a modern bathroom, and another bedroom with two single futon beds on the open mezzanine.
Perfect for a small family or a group of friends looking for some privacy, it also includes a standalone woodstove, a rotatable Cable TV, a microwave, a dishwasher, a refrigerator, an oven, a coffee machine, free Wi-Fi and so much more!
Our spacious kitchen includes all necessary utensils so guests can enjoy cooking and preparing meals.
Spacious and luminous, our dining room lets you gather around a meal, a drink, or play board games.
A fireplace, TV, and comfortable couches make our living area the coziest place to hang around La Ferme.
Vast Garden and Sunny Terrace
Numerous seating areas and terraces are scattered around our vast natural garden.
Covered outdoor area with BBQ
Available all year round, our Barbecue Hut has always been a popular choice among travelers visiting SPA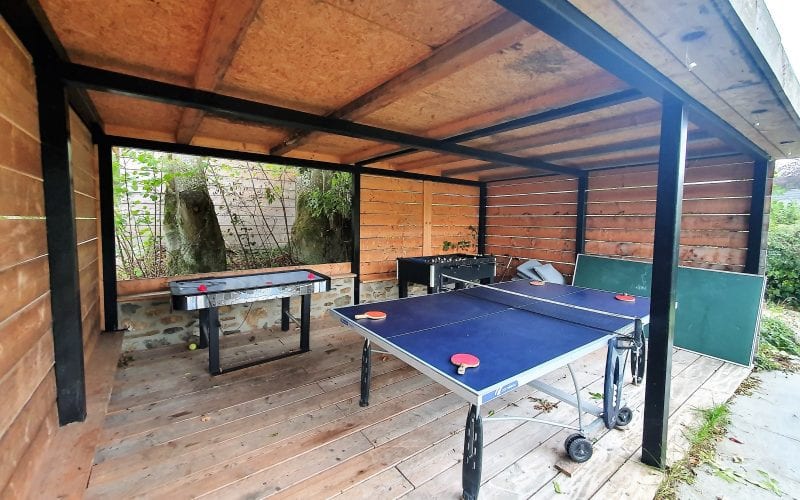 Table Tennis, Table Hockey, Table Football, Darts, and other games are always available in our games shack.
Thermes de Spa is a natural source long praised for its supposed healing properties. It combines modern wellness with traditional hydrotherapy. 
Circuit Francorchamps (8.3 Km)
One of the most beautiful motor-racing circuits, it is the current venue of the Formula One Belgian Grand Prix and has held a Grand Prix every year since 1985.
You can take the safari tour through the park or even drive with your own car. You can also visit the smaller zoo by foot and enjoy several animal shows.
Franchimont Castle (5.5 Km)
An 11th century medieval fortress located on a rocky peak at the heart of the Belgian Ardennes, it is a very important archeological site worth visiting.
Royal Golf des Fagnes (0.8 Km)
One of best European golf courses, it offers a challenging golf course and a very impressive clubhouse around the well-laid green field.
Waterfalls of Coo (11.3 Km)
Located in the village of Coo, this waterfall is the largest natural waterfall in Belgium and offers lots of activities such as zip lining, kayaking and others.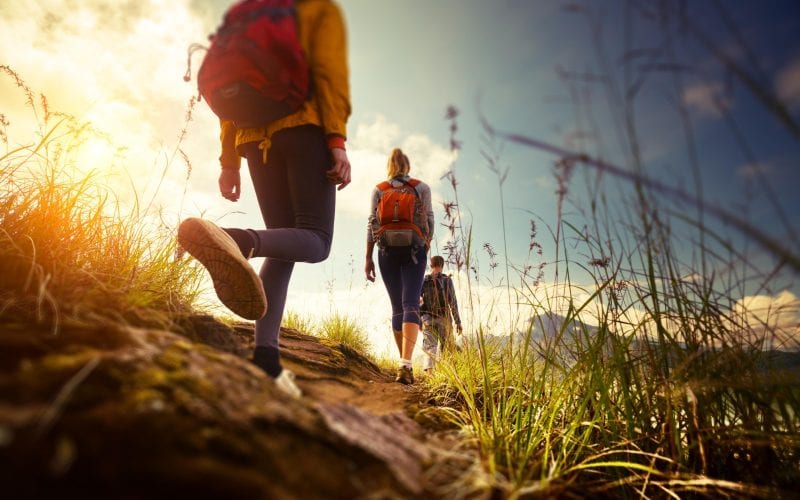 Dozens of gorgeous and historical Hiking Trails, as well as Biking Circuits, with varying difficulties, ranging from beginner level to more advanced expert levels.
8 tree climbing courses, 15m high free jump, regular and electric mountain biking, Nordic walking, Orienteering, treasure hunts, laser tag, survival workshop and more!
Fishing at Lac de Warfaaz
6.5 hectares of water for you to fish for trout, brook salmon, pikeperch, pike, perch and white fish; Melanote, Tench, Bream, Roach, Carp, Crucian, and more.
Located in Bernister, a small Village on a hilltop close to Malmedy, our Gite Forester is a three storey traditional house surrounded by forests, hills, wide pastures, green valleys, caves, rivers, babbling brooks and rough rocks. Able to host up to 14 people, our gite is ideal for a large group of friends or family, looking for a private but entertaining retreat. We offer inhouse entertainment such as a cozy sauna, table football, table hockey, pool table, trampoline, and BBQ , while the enchanting region offers a large variety of outdoor and nearby activities, such as countless hiking trails, Francorchamps' nearby F1 circuit, and so much more.